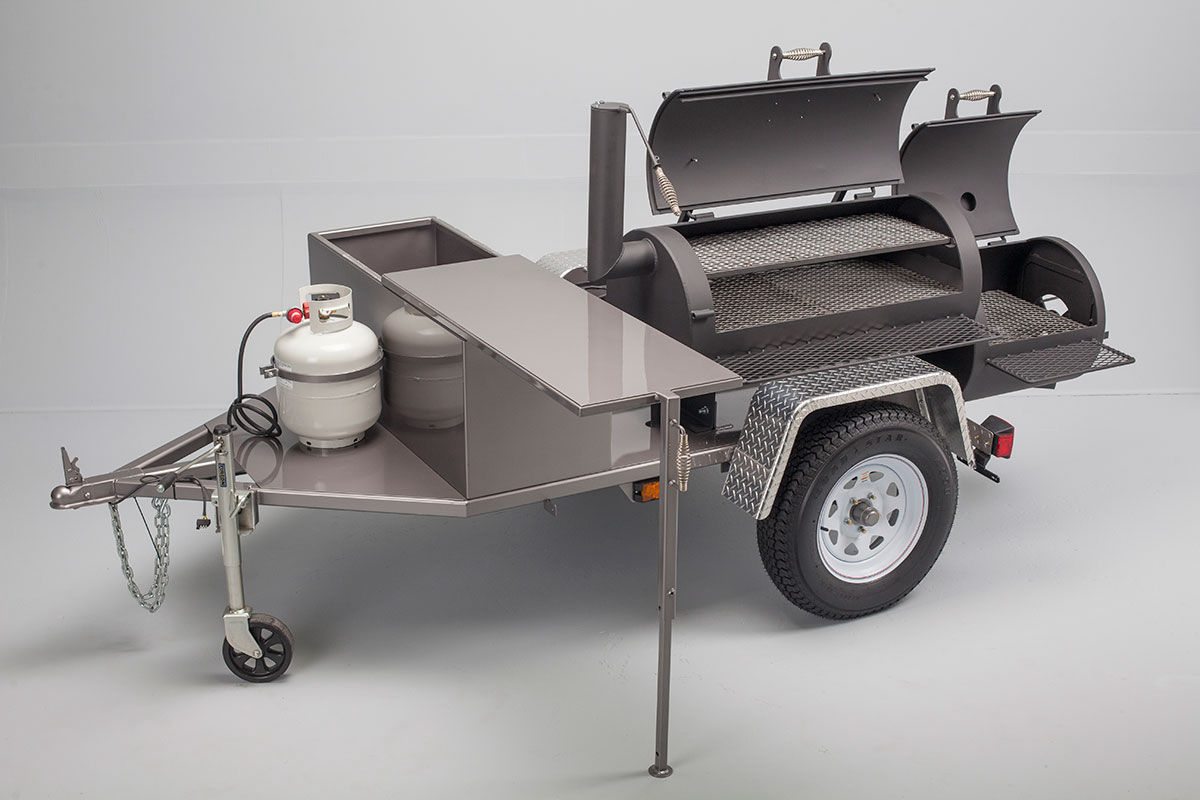 Starting At $4,699.00 + shipping
The Santa Fe is small but mighty, it only comes one way and that is hard loaded with every option available. That's right; a fully self contained cooking machine that is ready to slow smoke, barbecue, grill, boil or fry. With the Santa Fe there are no limits from family gatherings, tailgating, team parties, fundraisers, well you dream it and the Santa Fe will deliver the food. Just move it into place, drop the jack, open the sliding table, build your fire and start cooking.
With over 1,600 square-inches of cooking surface (firebox grill grate and sliding top shelf are standard), large wood/storage box, large sliding prep and serving table, optional single or double 60,000-BTU burners and LP system with tank; this is truly a mobile cooking machine.
Cooking Surface 1610.5 Sq. Inches |
Two 19.75″x19″ racks in Main Chamber 
One 19″x18″ rack in Firebox 
2nd Grate adds 518 Sq. Inches 
Overall Width 70″ 
(Including Trailer) 
Overall Height 64″ 
Overall Depth 131.45″ 
(Including Trailer) 
Weight 1,375 lbs
2nd Level Slide-Out Shelf
Propane Log Lighter 
Pot Warmer 
Heat Management Plate 
Stay Cool Handles 
Grease Drain 
Log Grate 
Door Counter Weight 
Temperature Gauges 
15″ Tires and Wheels 
Slide Out Table Top 
Single or Dual 60,000
BTU Burners
15″ Custom Aluminum Wheels with Tires (per pair) (+450.00)
16″ Custom Aluminum Wheels with Tires (per pair) (+650.00) 
YS640 Pellet Cooker Added to the Curbside (+2,199.00) 
24×48 Flat-top Charcoal Grill Added to the Curb Side (+2,945.00) 
Front Cargo Area with Tie-Down Rails (+250.00) 
Custom Paint Color (+CALL) 
Storage box with 4 sliding drawers (up to 50″ wide) (+950.00) 
Rear Storage box with Lid (+650.00) 
Tongue Storage Box with Positive Sealing Surface (+1,250.00) 
Charcoal Basket for Firebox (+169.00)
Book now for the best in Class Smoker
You can also book an appointment by either filling the form on our website or by simply giving us a call.