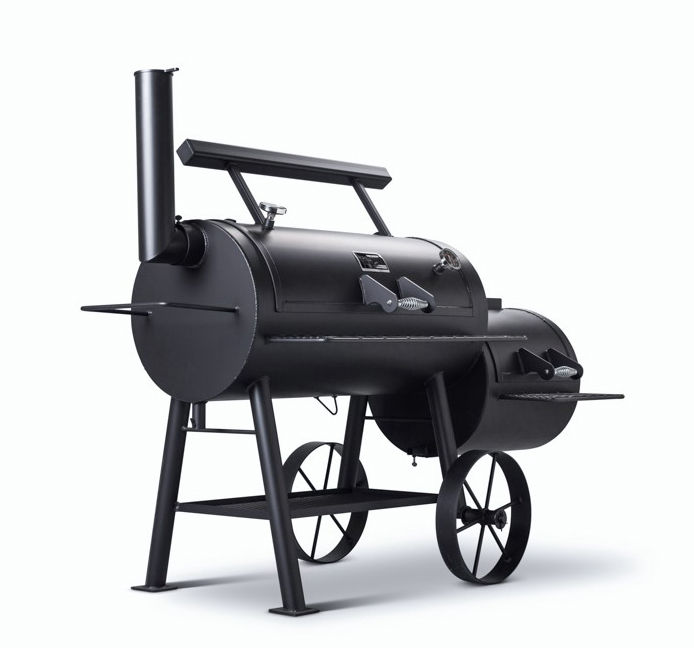 Starting At $3,049.00 + shipping
Load it up! The Loaded Wichita adds our three most popular options: cooking door counterweight, heat management plate & 2nd level slide-out shelf. To maximize your cooking experience. The Loaded Wichita boasts over 1600 square inches of total cooking surface. Precision crafted, the Wichita's dual-damper draft control system produces professional results–regardless of your level of experience. From the backyard to large gatherings–or even competitive events–the loaded Wichita will build your reputation as the neighborhood pit-master.
Cooking Surface 1610 Sq. Inches 
Two 19.75″x19″ Cooking Grates in Main Chamber 
14.5″x36.5″ 2nd Level Silde-Out Shelf 
19″x18″ Cooking Grate in Firebox 
Overall Length 78″ 
Overall Height 57″ 
Overall Depth 34″ 
(Including Front Shelf) 
Weight 591 lbs
Pot Warmer
Stay Cool Handles 
Wagon Wheels 
Grease Drain 
Offset Firebox 
Log Grate 
Temperature Gauge
Charcoal Grate for Cooking Chamber (+37.00)
Propane Log Lighter (+79.00) 
Probe Port (+39.95) 
Wichita Cover – with Counter Weight (+139.95) 
Charcoal Basket for Firebox (+149.00)
Book now for the best in Class Smoker
You can also book an appointment by either filling the form on our website or by simply giving us a call.