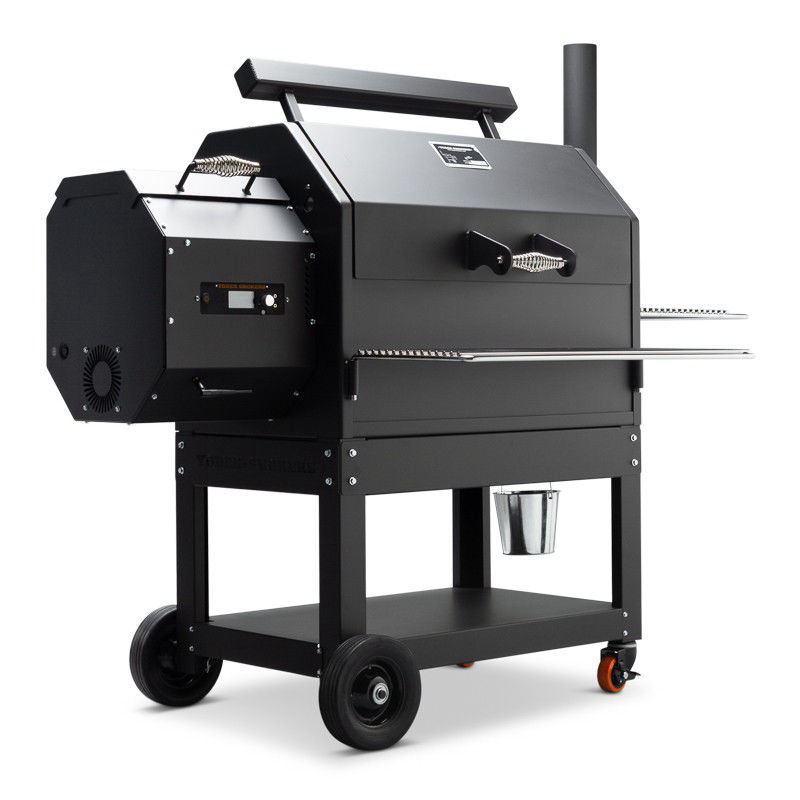 "6 New Standard YS640 Have Arrived"
Starting At $2,399.00 + shipping
Yoder Smokers Pellet Grills come standard with the NEW Yoder Smokers ACS Control System with two integrated food probes. New ceramic ignition system and large custom orange casters are new features in the S series of pellet grills. With expansive cooking surfaces-ranging from 800 to 1,070 square inches-combined with nearly twelve inches of headroom, there's plenty of room for anything, including beer can chickens or turkeys.
Cooking Surface 1,070 Sq. Inches
Two 16″x20″ Cooking Grates in Main Chamber 
15.5″x28″ 2nd Level Slide-Out shelf 
Overall Length 61″ 
(Including Side Shelf) 
Overall Height 54″ 
Overall Depth 36.24″
(Including Front Shelf) 
Hopper Capacity 20 lbs 
Weight 335 lbs
NEW Yoder Smokers ACS (Adaptive Control System)
NEW Ceramic ignition System 
NEW Custom Large Orange Casters 
2nd Level Slide-Out Shelf 
Stay Cool Handles 
Grease Drain 
Door Counter Weight 
Digital Control System 
Front and Side Shelves Made from 7/16″ Hard Chrome-plated Round Bar Steel 
Probe Port 

Cart Options 
Orange, Silver, or Black Cart 
Custom Cart Color
(Call for Price)
Direct Grill Grates (3 pieces) (+89.95)
Direct Grill Grates with Tool (+109.95) 
NEW Cast Iron Griddle (+79.99 )
Thermal Insulating Jacket (+219.00) 
Fitted Cover (+113.00)
Fitted Cover (Competition Cart) (+159.50) 
NEW Fitted Cover (+122.50) 
NEW Fitted Cover (Competition Cart) (+149.50) 
Competition Cart with Stainless Steel Shelves (+795.00) 
Door Thermometer (+59.95) 
Dual Door Thermometers (+119.90) 
Stainless Steel Front and Side Shelves (+295.00) 
2-Piece Heat Diffuser with Access Door (+169.00)
NEW Three Tier Wire Smoking Rack (+279.00)
Book now for the best in Class Smoker
You can also book an appointment by either filling the form on our website or by simply giving us a call.