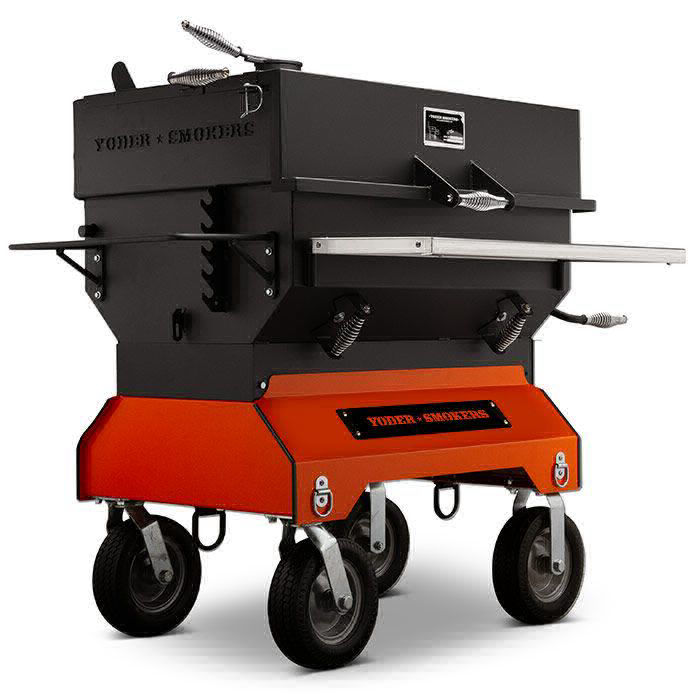 36" Adjustable Charcoal Grill on Competition Cart
Starting At $3,149.00 + shipping
This is the ultimate charcoal grill. Yoder Smokers has improved their large format charcoal grills for portability. The large flat cooking area is ideal for the large grilling events. This 24″x36″ grill boasts 864 square inches of cooking surface. The five position adjustable charcoal tray makes controlling the heat easy and the big charcoal grate allows you to build a large direct fire while still giving you half of the grill for indirect heat to finish burgers, steaks, brats, and dogs while also having room to do veggies and sides. With heavy duty stainless steel hinges, the grill lid is easy to open and close, while the stainless steel front shelf gives you all of the space you need to for condiments, tools, and other items. Finally, the competition cart features eight-inch pneumatic tires which make moving and positioning this grill a breeze.
Cooking Surface 864 Sq. Inches
Overall Length 47.9 " 
Overall Height 47.7″ 
Overall Depth 37.5″ 
(Including Front Shelf) 
Weight 378 lbs
Competition Cart
Charcoal basket has 5 height adjustments for precise heat control 
Full length ash and grease tray slides out for easy adjustment 
Easily set up for indirect grilling 
2 adjustable combustion air vents deliver even burn 
Grill body constructed from 10-gauge, lid from 12-gauge, and charcoal basket constructed from 7-gauge steel
Book now for the best in Class Smoker
You can also book an appointment by either filling the form on our website or by simply giving us a call.